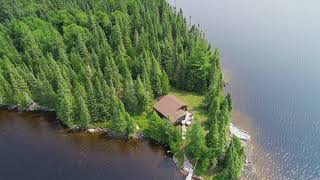 Gould Lake
Cabin description:  Framed structure, with a screened porch, 2 bedrooms, 6 single beds, a restroom with a compost toilet and a shower stall with a camp shower bag, an on demand hot water heater (water is pumped out of the lake), gas and 12 volt LED lighting.



Cabin layout


 
Accessibility:   From the dock to the cabin can be difficult, the cabin is located on a large granite rock, the rock is smooth and steep for some. Slippery when wet.

Fishing:  This lake is known for its large Northern Pike, many have been caught in the 40" plus range on everything from flies to spoons and plugs.  The lake also has Lake Trout.  We also have a couple boats cached on Flagg Lake, which also has Northern Pike and Lake Trout.
Both Gould and Flagg Lakes are extremely rocky and  up to 90 feet deep.

Distance from Hawk Air's Seaplane base:  About a 30 minute flight.

This is a remote, fly-in only outpost camp and the only cabin on the lake.Please Note: Our fly-in camps are limited to 150 total fishing days per season. (This is a Camp Anjigami, policy)


Also, the party size can be 2 to 6 adults.
Gould Lake (dates available in Green)