Four Bedroom, four bathroom bunkhouse:   This building and rooms can be additional accommodations for either the Moosehead, or Paradise cabin rentals at a "special rate".   
If you would like space for yourself or need a extra room, this is it.   The rooms will be rented on a night by night basis and a room by room basis.   They provide extra options for your group.  
 A community kitchen / dining room building for bunk house guests.
Having the kitchen / dining building opens additional opportunities for smaller groups to rent these rooms by other guests on a night by night or weekly basis.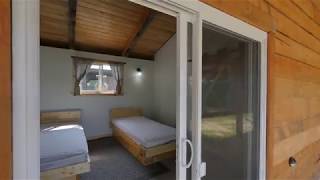 Main Camp Bunkhouse